Injen HydroShield Pre-Filters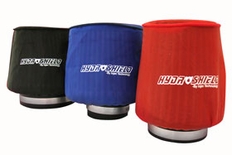 Introducing a colorful peace of mind.
Ever worry about water getting into your cold air intake system? For that added protection during those unsure moments, Injen Technology's HYDRO-SHIELD PRE-FILTERS are race proven material manufactured from highly durable polyester. Uniform micron openings allow the filtering of debris .005" or larger. The HYDRO-SHIELD PRE-FILTERS are factory treated using an embedded hydrophobic process, which offers consistent airflow, water repellency and maintains horsepower gains. (Please note that this item is water repellent, not water proof).
Basically, the Injen hydroshield is a water shield and prefilter for your air intake system. It will allow air through and block water and large dirt particles, protecting your car and keeping your filter cleaner.
Key Features:
- Hydroshield Available in RED, BLUE, BLACK
- Water Repellent Outer Coating
- Consistent Air Flow
If you are not sure which hydroshield you need, consult our Injen Filter / Hydroshield App Guide